Happy Employees, Happy Customers
Here in CSR, we know that productivity, efficiency, excellence and achievements begin with our people's well-being. We would not be able to make it to where we are now without the commitment and energy of our team. CSR is dedicated to ensuring a pleasant and encouraging Employee Experience.
The CSR Employee Experience
CSR is committed to providing the best working environment for the team. This comes as an Employee Engagement Programme – a series of fun, exciting and engaging activities to ensure every team member feels 'connected' to the company.
This initiative aims to:
Align employees with CSR's vision, mission and values
Increase employees' productivity
Enhance employees' well-being
Improve workplace conditions
Motivate employees with work-life balance.
At its core, the CSR Employee Engagement Program charts an employee's journey through areas that serve as the core pillars of the employee experience:
Delivering wellness to our customers begins with wellness within ourselves through our health-related initiatives.
'Teamwork makes the dream work' and teamwork starts with a strong bond between members informally.
CSR Team learns from the words of wisdom from the Leadership Team in a relax and informal setting.
We encourage the CSR Team to be agents of change via knowledge sharing and make a meaningful and positive contributions.
Living up to the CSR values, each of our employees is committed to taking up a role in Corporate Social Responsibility.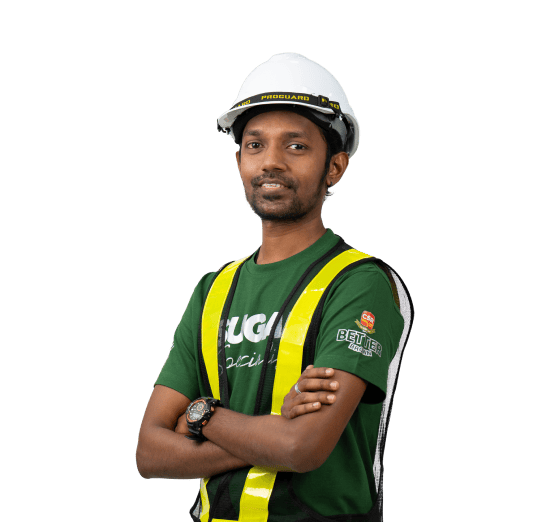 The team at CSR truly knows how to create a fun and engaging work environment. The company offers a range of employee activities and events that bring us together. From team-building activities to festive events, the company offers something for everyone allowing us to unwind after being hard at work. It's a great way to bring us together and boost morale, making us feel valued and appreciated. I look forward to these events as they allow me to recharge and return to work feeling refreshed and motivated."
I have been working for CSR for some time now, and I must say that it has been an enriching experience for me. We have a fantastic team who work together to achieve the company's goals. Our mentors are supportive and provide valuable insights that help us enhance our skills. It's an incredible feeling to be a part of a team that operates so smoothly, and I'm proud to work for CSR."
Manager, Customer Service and Pallet Management
Working for CSR has been a refreshing change for me in terms of work-life balance. The company is supportive and provides us with the resources we need to maintain a healthy work-life balance. This includes an in-office gym, good training opportunities, and flexible working hours, which have helped me manage my work and personal life effectively.
Manager, Government Relations and Regulatory.
CSR has a work culture that values innovation, creativity, and collaboration. The company encourages us to think outside the box and rewards us for our hard work and dedication. The supportive environment and positive feedback from management have created a culture of excellence that motivates us to push ourselves to do better every day. It's a great place to work, and I feel proud and valued to be a part of such an amazing team.
Rabi'Atul' Adawiyah Zainal Abidin
Executive, Corporate Affairs
At CSR, there are plenty of opportunities to showcase my skills and talents. The management recognises and rewards hard work and dedication, providing the momentum necessary for us to excel in our roles. The company also provides ample opportunities for growth and development, and the management is supportive of employees who want to take on new challenges. I feel confident in my abilities, thanks to the trust and encouragement I receive from my colleagues and superiors.
Senior Engineer, Engineering, Ops
Learning and Development are essential aspects that can only lead to positive results. As such, CSR invests heavily in the learning and professional development of our People to ensure the CSR Team is able to perform at their best.
Our pledge to the Learning and Development of the team are as follows:
To be proactive and deliver quality work in full, and on time.
To help employees grow to their fullest potential, by working with internal stakeholders and L&D Providers.
To develop a pool of Internal Trainers to support learning programs best delivered by in-house expertise.
This pledge is achieved through a personalised development plan for every employee incorporating technical training, coaching and mentoring, and skill-building programs.
A Workplace You Can Thrive In
We invest heavily in the personal as well as professional development of the CSR Team. Part of our initiative is to ensure the team has the proper facilities to assist in their growth as vital members of CSR and as indispensable members of the community.
The Dojo Room is an initiative by the Health, Safety and Environment (HSE) department that houses industrial safety simulation tools. The HSE department frequently trains the team in the Dojo Room, prioritising those who work with machines daily. Our Annual Safety Day is held to ensure health and safety precautions amongst the CSR Team.
Tucked in the CSR Office is the gym, where our staff members are able to stretch their legs (and more!) to go for a jog on the treadmill or to pump some iron. After all, a healthy lifestyle starts with us.
Staff members can also enjoy participating in seasonal events that are held from time to time throughout the year like weight loss challenges and more.
The Emerging Leaders Programme
CSR's story still has a long way to go, and this journey will be filled with challenges and uncertainties. To face these obstacles, the CSR Emerging Leaders Programme helps to identify our People with leadership potential. This programme allows them to realise their untapped capabilities by further building their competencies through a professional development plan that improves their self-awareness and skills in communication, leadership and change management.
Join Us to Craft Sweet Future for Malaysia
Connect with us and discover your fullest potential.